Get Started
This course is currently closed
IMPORTANT INFORMATION
This course is being revised and will be replaced soon. If you are already registered for this course, you will have access to it until May 25, at which time the new course will be launched. If you are interested in registering for this course, you can do so until May 15, but we recommend that you to wait a few days and take advantage of the new course.
In order to build and implement measures that prevent motor vehicle incidents (MVIs), the first step is to understand how and why employees can get hurt while driving for work. Looking for and recognizing the things that have potential to harm someone (hazard identification) and determining how much harm might occur when employees are exposed to those hazards (risk assessment) are essential elements of an effective road safety program.
Purpose and learning objectives
The purpose of this course is to provide learners with a practical understanding of how to identify driving-related hazards and apply tools to assess the potential losses caused by those hazards. By explaining and demonstrating two methods, the course will build your practical hazard identification and risk assessment skills, and will enable you to apply them in your workplace. Finally, the course explains what to do with assessment results – how to prioritize risks for action.
By the end of the course, you will be able to:
Define hazard identification and risk assessment processes in a road safety context,
Recognize "where" hazard identification and risk assessment fit in the safety planning cycle,
Describe hazard identification and risk assessment frameworks and processes, and
Apply those methods to identify hazards, evaluate risks and establish priorities for action in your workplace.
Course layout
Click on each accordion to expand and learn more.
Throughout the course, you will gather information using a variety of resources – text, videos and info-graphics. The lessons involve practical scenarios, activities and quizzes designed to help you understand the concepts and methods so you can apply them to driving circumstances in your workplace.
| | |
| --- | --- |
| | This course contains audio. |
| | This course is about 60 - 90 minutes long. |
| | Make sure your browser is up-to-date. |
Record of Completion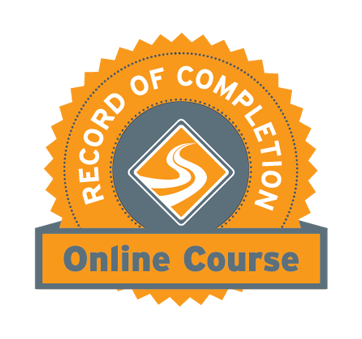 After you successfully complete this course, you'll be able to print your Record of Completion – and demonstrate to others your commitment to improving safety for employees who drive for work.